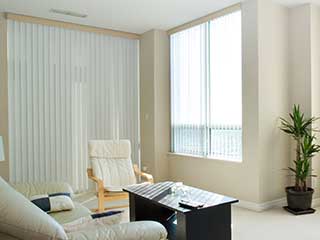 Most sets of blinds have vanes that run from side to side, and frames or cords that you pull up to open. With this style, it's the exact opposite. Vertical blinds are made of rigid vinyl, wood, or aluminum panels that paint upward across the windowpane, and they swivel and open sideways. Concord home and business owners can call Concord Blinds & Shades throughout the workweek to get a brand new set of custom vertical blinds started. With unmatched quality at our offered prices, Concord Blinds & Shades is your go-to source for local, tailor-made window treatments!
Ideal Blinds For Long Windows And Glass Doors
Speaking in broad terms, you should consider vertical blinds for windows that are longer than they are tall. Most windows, of course, are tall and narrow and work better with conventional blinds. Wall-length or picture windows won't support those horizontal panels very well, and opening and closing them will be a chore. With vertical blinds, that's not an issue! Vertical blinds for French doors, sliding glass doors, and other wide, transparent entrances are also popular. These sets can go on tracks just like another sliding door, or hang from a bar across the top and move on wheels.
Concord Home & Office Vertical Blinds
Wherever you have a long, narrow glass or mesh opening, you have room for some of these specialized window coverings. In a workplace environment, offices and waiting/seating rooms often need these blinds. Since you open and close them sideways, vertical blinds are great for shielding sensitive areas of the room while letting sunlight and air into others. Choose some gray or white vinyl panels for your set, and you can also have them add to your office environment. Around the home, you can put vertical blinds on French doors, kitchen and living room windows, and patio entrances. Some cloth lining can do a lot to make the blinds homier and more inviting, as can some well-chosen colors and designs.
Custom Made Vertical Window Treatments
Interested in a free consultation & estimate? Our interior design specialists can visit your Concord address and help you decide exactly which features to include in your custom vertical blinds. Aluminum blinds are lightweight and resistant to water damage. Wood and vinyl vertical blinds are long-lasting, and the former has a charm that few other materials can match. In addition to materials, colors, and frame styles, you can choose to get your vertical blinds with curtains or sheer coverings. Our team will always be happy to talk you through the pros and cons of each option and to help you minimize expenses.
Choose Your Motorized Vertical Blinds Features
Remote-controlled window treatments save you a lot of time and irritation throughout your daily routine. Add a timer or sunlight sensor into the equation, and you can save money as well! Forgetting to adjust your window blinds or not being there to move them can result in a lot of needless heating, cooling, and furniture expenses over the years. With smart motorized vertical blinds that react to the sunrise, sunset, and even weather, that problem is solved before it even starts! Nearly all of our window treatments are available in motorized form, with your choice of control systems and extra features. When you have your new electric vertical blinds installation appointment, we'll set these accessories up for you as well.
In-person Estimates At Your Concord Address
Concord Blinds & Shades serve residential and business addresses all over the San Francisco area, at prices that any property owner can afford. Vertical blinds offer an excellent solution to shade office spaces and residential homes. They make for a fantastic choice to cover patio doors and window walls. Learn more about vertical blinds options by booking a free consultation and discussing all the details with our experts!