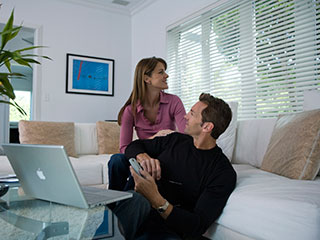 Modern window treatments bring a lot of style to your property's decor. But more than this, they contribute a lot to the comfort levels of your property by helping to regulate temperature and light levels. Smart Somfy motorized blinds can be scheduled to optimize light levels throughout the day. If you're in Concord or nearby, we have an expert team who produce made-to-measure motorized window blinds and blinds to meet your needs. Cover large windows or small skylights with perfect custom-made blinds.
Blinds With Remote Controls
It's possible to motorize nearly any type of blinds you can think of, and install them in your property. This means you can choose the ideal type of window coverings for your home or business. Vertical blinds are often used in Concord homes or offices that feature large window walls. Venetian blinds, on the other hand, are a great choice for getting that clean, classic look. Remote control Somfy blinds give you various options for automation and motorization, making window coverings an ideal addition to the office or home space.
Automatic Draperies and Window Blinds
Soft covers also gain utility from the technology that Somfy motorization provides. For instance, blackout curtains are a very popular choice on bedroom windows because they block out unwanted sunlight. Roller blinds, motorized, offer a really effective and simple window covering for living rooms or kitchen windows in Concord.
Somfy Patio Covers
Pergola screens and motorized awnings all come from Somfy, motorized, and outdoor shade systems like this are a really important part of any property. It's essential to keep your friends and guests safe from the hot sun and UV rays, which is why convenient motorized blinds from Somfy are a really great addition to any backyard.
Top Somfy Blinds & Shading in Concord
Get blinds, rolling shutters, or coverings that offer the exact set of advantages you need at your property. We offer in-depth consultation and advice on smart Somfy blinds and shades for any Concord-area property, along with free quotes. Learn more about our made-to-measure Somfy blinds and other shade systems today!