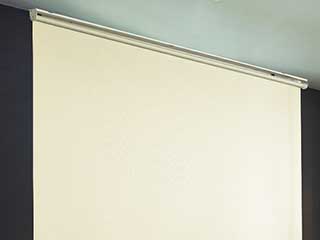 Covering windows, glass doors or skylights in your home or office can prove simpler than you may think. Roller shades are one of the most loved styles of window treatments, and Concord Blinds & Shades has the finest selection of designs and materials to offer you. Roller shades are simple, affordable, and offer a wide range of customization options. This means they will complement any space without issue, won't push your budget, and let you find the aesthetic you're looking for, all in one. Depending on your budget and needs, our experts can help you find custom roller shades that meet all your requirements.
Useful Motorized Roller Shades For Concord Area Properties
Motorized roller window coverings provide a whole host of benefits for your residence or business. From improving security to helping you save money on energy, these electric roller covers have a lot to offer. Allowing the sun to stream in through your windows will cause the temperature to rise more than it would otherwise. Unfortunately, this causes excessive AC use. This happens a lot with windows that may be high up and out of reach, such as skylights. However, motorized roller shades will take care of this. You can have them connect to your Wi-Fi network and then use your phone or tablet as a remote control handset. You can even adjust your motorized roller shades throughout the day, even when you're not home. With timer settings and brightness sensors, your motorized roller shades will move on their own.
Enhance Sleep with Blackout Roller Window Shades
Bedrooms need good opaque covers on their windows to ensure your uninterrupted sleep. Blackout roller shades do a lot of good in both Concord homes and businesses. At home, in the bedroom, they'll ensure that no outside light comes in to disturb your very important rest. At night, or even during the day. In the living room, you can get a movie theater-style experience without having to leave home! Blackout roller shades also protect privacy, which is what makes them a great fit for businesses. Whether your private office could use the seclusion at times or you want to be certain no prying eyes will see into a board meeting, blackout roller shades have you covered. Literally. They eliminate all sunlight glare too.
Light and Airy Sheer Roller Shades
The Concord Blinds & Shades professionals recommend beautiful sheer roller window shades for rooms where they can give your guests a warm welcome, such as front rooms or guest bedrooms! Aside from their lovely appearance, sheer roller shades also work hard to keep the furniture protected from UV rays. They also help lower energy spending. That's all thanks to sheer roller shades diffusing sunlight to prevent the damaging rays from passing, without blocking light fully. Direct sunlight can harm belongings such as furniture and books. It can also cause energy loss due to temperature fluctuations. With sheer roller shades, you won't have to worry. You can create a soft, warm ambiance inside any room without using electrical lighting whatsoever.
Custom Made Roller Window Covers
One of the most important aspects of window shading is the measurements. The blinds/shades need to cover the surface area and allow no sunlight to slip through the sides. With our custom made roller shades, available to all properties near the Concord area, you won't have such issues. We make all motorized roller shades and manual versions made-to-measure. That's after providing a free estimate and consultation, along with color samples and advice. Need new window covers for a local bay area business or home? Call Concord Blinds & Shades for an affordable and reliable shading solution from the best local motorized blinds installers near you!