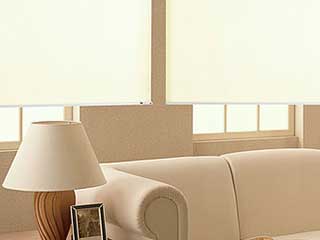 You can make sure that your home has the peace and privacy it deserves from help from Concord Blinds & Shades! While there are many varieties of window coverings that our experts would be happy to walk you through, one of the most efficient and useful types are blackout blinds. They add an extra layer of protection against light coming in when you don't want it to and are also excellent for keeping out any unwanted gazes as needed. We have more information about blackout blinds below if you're interested! If you want a free estimate, all you need to do is call and we'll set one up.
The Best Blackout Window Coverings for Your Office
Offices are one of the places where blackout blinds can do a lot of good! That's because too much glare coming off of computer monitors can not only be distracting to workers, but it may eventually hurt their eyes as well. Some window treatments may still allow glare to happen, even when they're in use due to cracks around the outside, but not our custom-made blackout window coverings! Our Concord team will make certain that your employees won't have to worry about it ever again, and will be able to work without any problems. Blackout blinds also help create complete darkness for viewing PowerPoint presentations and more during meetings!
Concord Blackout Bedroom Blinds
From nurseries to your own bedroom, blackout blinds will make sure that everyone in your household is getting restful sleep! Light from the outside can be disrupting. Whether it's street lamps at night, or the sun if you need to sleep during the day. Lack of good sleep can lead to a lot of other issues, so keep that from happening with our blackout window treatments. Kids and adults alike will be able to get to sleep soundly in a completely dark room, no matter the time of day. This stands as the foremost benefit of blackout blinds. Controlling how much sunlight gets inside allows you to determine when it gets dark.
Motorized Blinds To Blackout Any Room
While blackout blinds themselves can do a lot to make life easier, you can take it a step further with motorization! This way, even when you're away from your Concord home, you'll be able to open and close your new blackout window coverings using an app on any smart device. Timer functions also allow you to have your blackout blinds adjust themselves according to your schedule, so you never have to worry about it! They'll open when you get up, close when you go to bed, and anything in-between.
Patio Door & Skylight Blackout Window Treatments
Make sure your home's temperature stays stable and isn't costing you in energy spending, with our blackout blinds! Skylights may be aesthetically pleasing, but they can also be a source of insulation trouble if not covered correctly. That's where our local blackout window treatment experts come in! They'll completely block out sunlight during the summer to keep your home cooler, and even help keep heat in during the winter as well. We also have blackout blinds for sliding glass doors, which can also allow in too much light. Direct sun can damage furniture as well, so it's best to be safe and give us a call! Call us to schedule a free consultation + estimate with our nearest Concord blackout blinds installer!