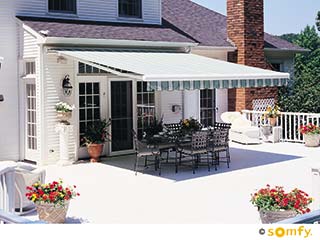 Keeping a nice cool and shaded space outdoors can be difficult sometimes, especially as the position of the sun changes throughout the day. With motorized patio covers and awnings, you can always stay protected, and continue to enjoy your outdoor space in comfort and coolness. As a team of top Concord motorized patio cover installers, we offer customers from all surrounding regions free quotes and in-depth consultation on custom covering solutions for gazebos, decks, pergolas, and various other patio spaces.
Remote Control Outdoor Shades
It's the purpose of the patio to give you a space to lounge in under a cool, shaded spot while enjoying the breeze. But that's not always possible, especially during summer when the blazing sun above can become a real problem. Motorized remote control patio shades solve this problem by allowing you to adjust the cover overhead or on the sides. With a connected remote control, you can move the patio covers to continuously protect you as the sun moves across the sky.
Pergola Screens and Motorized Canopies
For outdoor shade structures, you sometimes need different solutions that can optimize the different builds and also provide protection at angles that aren't always obvious. Pergola screens can roll up or down to shade the interior space, and motorized canopies do the same overhead. These motorized outdoor covering solutions keep you shielded from dangerous UV rays and provide ample cool shade for you to enjoy without quickly getting drenched in sweat.
Motorized Awnings Custom Made For Concord Patios
Another fantastic solution that adds a lot to patios and decks, awnings are famous for their simplicity, but also for the great utility they have to offer. Motorized awnings can extend from patios, decks, and even pergolas to add a shaded extension and even ensure lower coverage and protection from sunlight. Awnings with remote controls also can sport various designs that enhance the aesthetic of the outdoor space, making them worthwhile for practical and decorative reasons.
Great Motorized Patio Covers With Free Quotes
It's our favorite part of the job to meet with customers and provide advice and recommendations for their needs. That's why we don't charge for our in-person consultation, after which you receive a quote for the custom motorized patio covers, awnings, or pergola screens that your Concord area property needs. So go ahead and get in touch with us to book a free estimate and see what sorts of motorized outdoor shading solutions we can make for you!