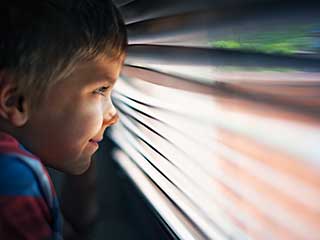 Concord Blinds & Shades has the finest selection of window coverings around the area, and a friendly team here to go over them all with you! Whether you have a bedroom that needs sprucing up or need something affordable and functional for your business, we can do it all. Venetian blinds are one of the many choices we have available. They offer a great option for those who are looking for something simple to use, and suitable for mid to small-sized windows. You can discover more about the different materials Venetian blinds come in below:
Blackout Venetian Blinds - Ensure Privacy & More
Blackout Venetian window treatments can be beneficial for a variety of reasons. From assuring nobody will be able to see into bathroom windows, to keeping a nursery dark for a sleeping child. Not only are blackout Venetian blinds made specifically to block out any outside light, but being custom made by our technicians means they'll perfectly fit your windows. No gaps or cracks of light to bother you, period! Blackout blinds, Venetian or otherwise, are a must-have for anyone who wants to assure good rest, or that no one can peek in your Concord windows.
Metal and Wood Venetian Blinds For Windows
The right material for your new Venetian window covers can make all the difference! That's why we're here to go over all the options with you, including the pros and cons. Metal Venetian blinds may not be the most stylish, but they are the most affordable. This can be good for offices especially, where functionality is what matters most. Aluminum is also less expensive than some other materials, but it's sturdy as well. Alternatively, if you're looking for beauty, Wood Venetian treatments are the way to go. There's also faux wood if you'd rather deal with less maintenance.
Concord's Highest Quality Motorized Venetian Blinds
You can control your new blinds even when you're away from home with our motorized Venetian blinds! Using Wi-Fi capabilities, you'll be able to open or close them by using an app on any smart device. Make sure your home isn't getting too warm in the summer from the sunlight pouring in, and that your furniture is safe from sun bleaching. You may even dissuade unwanted visitors by making it appear as if someone is always around! For ease of use, as well as energy efficiency, motorized Venetian blinds are your best bet.
Get the Finest Venetian Blinds for Your Concord Residence
Our experts at Concord Blinds & Shades stand ready to go when you are and show you our wide range of selections! We offer free consultations on Venetian blinds and all other types of window coverings, anywhere near the Concord area. We'll go over all the options with you, that way you're getting input from the professionals to help you decide. Whether you have something specific in mind for the kitchen, like vinyl Venetian blinds, or need suggestions for what would work in your child's bedroom, you can get helpful assistance and advice from us anytime! We create every set of window treatments according to the measurements of our customer's windows to ensure they fit perfectly. If you'd like to find out more, just give us a call today!