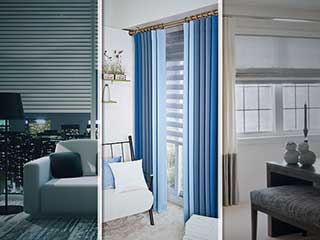 If you own a home or business anywhere near Concord, you can enjoy our state of the art custom motorized blinds. We design all types of motorized window coverings, from roller shades to vertical blinds, using all sorts of RF, Bluetooth, and Wi-Fi blinds remote control systems. You can choose something that goes well with the interior décor, while also offering convenient control. Get top of the line motorized blinds at bargain prices by arranging a free estimate and at-home consultation.
Why Choose Motorized Blinds
Convenience is the first reason to choose motorized window treatments over the old fashioned kind, but not the only one! With wifi connection and smart control systems like our Lutron and Somfy blinds, you can improve your domestic efficiency and even save money over time! People waste heating, air conditioning, and furniture repair costs because of blinds left open or closed. If you have remote control blinds or automatic light-sensing ones, that will never happen! Motorized blinds that you can close remotely also hide the contents of your rooms from a passerby when the streets are busy, which prevents people from getting ideas. Once you have these products installed and set up, you'll never have to stress over any of this again!
Concord Motorized Blinds Custom Made For You
There are so many kinds of window treatments out there. Would you prefer some stately wooden motorized Venetian blinds or cozy motorized roller shades made of soothing purple Somfy blackout fabric? If you're not sure what you want, or what your budget allows for, we can help you out! Concord Blinds & Shades provides free consultation appointments with our interior design experts. Get a quote from them before deciding on your new motorized blinds! We believe in making you part of the design process. Our team advises on colors and materials to complement your room décor, but you're the final judge!
Get The Most Out Of Remote Control Blinds
You can do better than remote handsets and wall consoles in this day and age. Connect your motorized window treatments to Google Home, Alexa, or any number of other property management apps. Smart house systems from Lutron are designed to link all your motorized blinds and shades and coordinate them for your comfort and security. That system can also include timers, notification systems, or even heat and light sensors. Want your motorized vertical blinds to close on their own when the sun gets too hot? With this technology, you can have those designed and installed cheap! How about motorized Venetian blinds that adjust throughout the day depending on weather and traffic? Those are also doable! Your remote control blinds can keep you informed of what's going on in your building from across the world, and take your commands in turn.
Motorized Blinds – Types And Structures
If you want the most protective window treatments possible, ask about motorized blackout blinds. Despite the name, these window coverings can be any color you want, and when closed they let in no sunlight whatsoever. For something peaceful that saves space, how about motorized roller shades? We can make those in bright fabrics, blackout cloth, or transparent solar sheets. Motorized vertical blinds for glass sliding doors? Check! How about some lacy motorized Roman shades to really impress people? Double-check! Our inventory is vast, and our manufacturing team can put the pieces together to make almost anything.
Get Started With a Free Quote!
Whatever your desire may be, from motorized blackout blinds to automatic roller shades, you can have your new electric window treatments custom made for your Concord property. Make an appointment at any nearby Bay Area address and our team will help you design your own perfect set of motorized blinds in any style you want. Call to book a free consultation appointment and start customizing the different available options today!