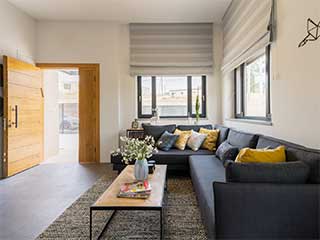 What are Roman shades? You've probably already seen them without knowing it. You know those fancy-looking window shades that fold up into rippling pleats at the top of the frame when opened? That's them! Unlike roller shades, these window treatments have multiple strings connected to seams inside of them, so that they form those gentle folds as you raise them. Roman shades are a great choice for any property owner with an eye for decoration, and here in the Concord area, they're more affordable than ever!
Where To Put Roman Shades?
The one limiting factor on where you can install Roman shades is the height of the windowpane. These features fold up under the upper frame and cover a few inches at the top of the window even while open all the way. That means that they work best on taller panes that can spare those few inches off the top! In addition to large or tall windows, French doors with Roman shades are a natural combination.
Roman Shades In Concord Homes
Any room with big windows or glass doors can get along with these elegant shades. If you want Roman shades for bathroom windows, our company has a selection of waterproof fabrics we can use for your set. Kitchen Roman shades might best go with monochrome and lace-lined designs, or else thin and tinted. For the bedroom or living room, you'll want thicker fabric and dark, restful colors. Creativity is all you need to make these window treatments a credit to any room, and our free consultation is here for you. We offer our services for Roman shades or other coverings throughout Concord and all nearby areas in the SF bay.
Roman Shades With Curtains
Since they stay inside of the window frame itself, Roman shades are easy to pair with curtains, drapes, or valences. For drab or gray Roman shades, some more stark coloration in the valences or curtains can create a nice relief. With thin curtains and thick shades (or the reverse), you give yourself more options for the room's light control.
Customize Your Roman-style Coverings
One of the main attraction points of Roman shades is their varied design options. You can choose any of our dozens of fabric types, and any colors or patterns you can think of! Embroidery, slits, and other ornamentations are all on the menu, as are automated features (read the next section for more about that!). This means that these coverings can suit a variety of rooms perfectly. Blackout Roman shades in bedrooms deliver the privacy and sleep-comfort conditions that you deserve. Sheer Roman shades will offer a way to minimize sunlight glare while still utilizing sunlight to illuminate rooms and enhance existing décor. This variety of customizable options makes choosing new coverings fun and exciting. You can get a free estimate on Roman shades for your Concord home or office space and have one of our experts show you all the options in-person.
Remote Control Roman Shades
An electric motor and a remote control handset change a lot about owning and using Roman shades. Gone are the days of hand-drawn strings that can endanger children! No more walking all around the house every morning and afternoon to adjust the window shades! With the addition of computerized features like timers or sunlight sensors, you can even have your motorized Roman shades adjust themselves unaided. The convenience is incredible, and you'll never have to worry about losing wallpaper or furniture to forgotten faded colors! The benefits of motorized Roman shades make them an excellent choice for enhancing décor and utilizing high-tech coverings for homes or businesses all over Concord.
Custom Made Window Shades, Roman or Other
Create the look you want in any room with Roman shades in various styles or other types of window covers. Book your free consultation appointment today and have an expert meet you anywhere in the Concord area or nearby to deliver advice and give you a quote. You've got a fantastic range of options before you, so choosing new shading solutions for your office or home is going to be fun! Call anytime for more info or to schedule an appointment.